Here are the reasons why a business should invest in Internet marketing and ethical SEO services. Do you want to increase web traffic, generate qualified leads online, increase your business sales volume, and improve the bottom line?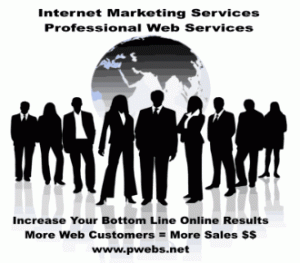 Get your business discovered online in the search engines with the 24 x 7 x 365 days a year business solution, utilizing Professional Web Services' Internet marketing and ethical search engine optimization (SEO) services.
In order to attract new customers via the search engines, requires developing an Internet marketing strategy that will set your business apart online. The Internet is a powerful tool that can be used to promote your website in more ways than one. Sitting back on the Web and not applying a strategic Internet marketing plan or a search engine optimization strategy is no longer an option. I guarantee you, the online competition is strategically developing their websites to take over the Internet landscape in your business domain and search engine search territories.
B2B buyers are actively searching online for suppliers, manufacturers, fabricators, new technologies, software, engineering, and all types of business support services. And, this should not be a surprise to anyone that B2C consumers are searching for everything online. And then, consider eCommerce websites. ECommerce is undeniably a super big facet of business and consumer purchases online, and this means that eCommerce sites must also include a SEO strategy. People from all countries, from everywhere in the world, even down to the local search areas, are searching for specific types of technology items, products to buy, or consumer services for hire. They are using the Internet search engines as their chief form of research. You've got to ask yourself, "do I want my business to be found online?" The only logical answer is absolutely, "YES!"
To show up online requires more than placing a placard website on the Internet. It requires marketing and professional SEO services. SEO is more than sprinkling a few keywords in your website. It means actively promoting, developing, and optimizing the website in order to build a solid online foundation. Read the article, Strategic Marketing From an Internet Perspective for more detailed information. There is no magical elixir to the process, and takes time to build a solid online foundation; it is not going to happen overnight on the Web.
Strategic online placement, with quality links at various online directories and other related websites, can help generate qualified traffic and customers. Optimization of a website for both the search engines as well as the readers will help the Web pages start showing up in the search engine results pages and increase online conversions.
Various Internet marketing strategies should also include utilizing Web 2.0 technologies such as video and targeted online advertising campaigns to get all your potential keywords and keyword phrases included for your business in the search engine results PPC, Pay-Per-Click area. This will extend the market reach of a website and create more opportunities for more sales conversions for your business via the web.
Don't make the mistake of sitting on your online B2B or B2C business laurels, or a false sense of security thinking that your company has a particular market segment cornered, and think that there is no need to continue with ongoing website development strategies. No, you do not want to sit still. Take this piece of advice and use good Internet marketing strategies to propel your business forward and stay ahead of the competition. Start increasing your business sales volume now.
Contact us for a free website SEO evaluation and online marketing consultation today. Let Professional Web Services demonstrate what professional Internet marketing can do for your business today.